A State of Florida Certified Electrical Contractor
Windemuller Technical Services | Serving the State of Florida
We comply with all applicable state and local building and electrical codes and standards for design, installation and testing. We are licensed, bonded and insured.
Windemuller can provide specialized services and will supply well trained professionals to serve your business.
Infrared Thermography Services – Since 1993
Windemuller has both Level I and Level II certified thermographers on staff.
WTS thermographers are trained & certified through The Infrared Training Center – the customer training arm of FLIR Systems, the global leader in Infrared cameras, night vision, and thermal imaging systems.
You can count on us to provide skilled design and installation services along with the appropriate products to protect your property. And Windemuller employees have extensive safety training.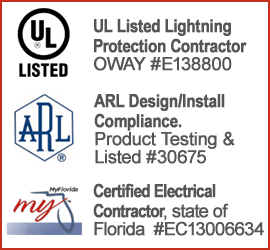 We will gladly provide references upon request.
Guaranteed Lightning Protection Systems
Preventor 2005 ESE Systems
UL & ARL Listed
Surge Protection
Electrical System Protection
Service Entrances
Fuel Management Systems
Commercial Fuel System Servicing
Electrical & Fuel Services for Marinas
Dock Pedestals
FuelMaster
Preventive Maintenance
Clean & Inspect Motor Control Centers
Certified Infrared Inspections
Ground System Testing
Breaker Exercising
LED Energy Efficient Lighting
Sea Turtle Safe Lighting
Low & High Pressure Sodium
Florescent Lamps
Mercury Vapor Lights
Metal Halide
U-Tubes
T5 Lamps
Lamp Recycling
Ground Grid Installs
Generator Installs
Instrumentation & Controls
Flow Meter Calibration