Infrared Thermographic Inspections
Detect Problems Before they Occur
Why Infrared Testing is Important for your Business
When a vital system fails or is interrupted, your business operations are significantly impacted.
Few electrical or mechanical failures occur without any warning signs. They are typically proceeded by changes in operating temperature. Infrared thermography offers an efficient way to locate changing conditions. This non-invasive survey can identify potentially dangerous conditions such as loose or dirty connections, overloaded or imbalanced circuits, or improperly installed equipment.
Infrared testing will locate hidden trouble areas – the "hot spots" – and allow you to make corrections before a failure occurs. Using infrared technology as part of a predictive maintenance program results in reduced downtime, avoiding emergency repairs, and saving maintenance dollars.
Infrared thermography can be used to monitor the condition of structures, machinery and systems. It is a predictive maintenance technique using a specialized camera that monitors the emission of infrared energy.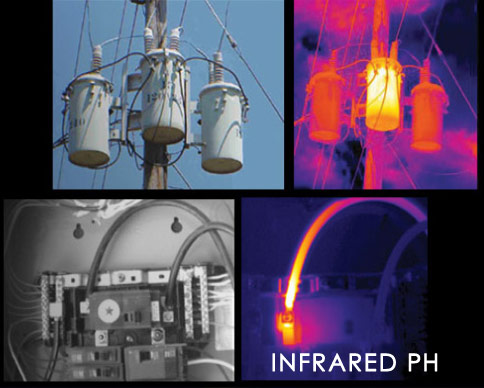 Infrared inspections are part of an effective predictive maintenance program for:
Electical Distribution
Control Centers
HVAC
Transformers
Electric Motors
Bearings
Conveyors
Skilled, Certified Thermography Technicians
Effective infrared surveys require specialized equipment and qualified technicians. Experience and training is required to accurately identify problem conditions and possible causes so that specific recommendations can be made to correct the situation.
Our certified thermographers will work closely with you throughout the inspection process to assure that the scan objectives meet your needs.  We will:
Identify your needs and objectives in a precise proposal
Have a journeyman electrician execute & interpret the scan
Prepare a comprehensive color report & carefully review any problem areas with you
Generate a videotape of the entire infrared inspection for your documentation
Make recommendations and/or assist you with repairs
We are experienced. Windemuller has been conducting Commercial Infrared Surveys since 1993.
Windemuller has both Level I & Level II Certified Thermographers on staff.
WTS thermographers are trained & certified through The Infrared Training Center.
ITC is the customer training arm of FLIR Systems, the global leader in Infrared cameras, night vision, and thermal imaging systems.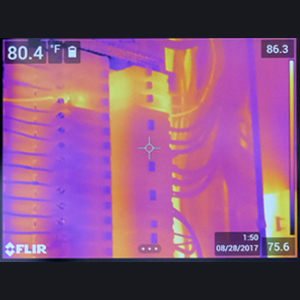 Potential Indications of Trouble
An increase in power consumption that cannot be accounted for
Accounts of motors or other equipment "slowing down"
Dimming of lights when equipment is started
Unexplained power surges seen in computers or other service equipment
Reports of burning odors around electrical panels, wiring, or equipment